Wed 29 Aug 2007
Buy Acomplia Online
Clarinex Without Prescription
Soma No Prescription
Acomplia For Sale
Soma Generic
Buy Toprol XL Online
Zelnorm Without Prescription
Zelnorm No Prescription
Coumadin For Sale
Cialis Soft Tabs Generic
Hello, there, ladies and gentlemen. It's a wonderful week for anime, yes indeed, and as such, we have this week's second amazing episode of anime, this time a WTF!? Wednesday special edition. But first, Yutaka from Lucky Star is here with an important question.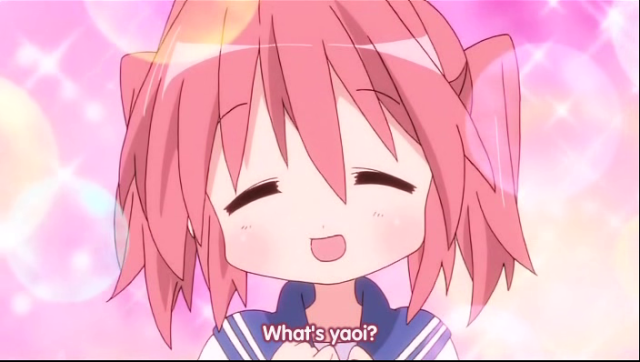 Isn't she just adorable, folks?
*Ahem*, well, I'd love to answer that, but I um… don't have the time for it. Yeah, that's it.
Anyway, on to the actual post, a WTF Wednesday Special Edition for Seto no Hanayome Episode 20!
Warning. The following contains big manly Yakuza attempting to be Moe. Venture further at your own risk.

I warned you.
Yeah, that picture is pretty much all you need to know about Episode 20.
Oh wait…
Again, I warned you.
So that's everything you need to know.
Oh, nope, no, there's one more thing.

Okay, seriously, I totally warned you.
What's that? You still don't get why these things make for an amazing episode of anime, even if they make for some delightfully twisted WTF images?
This IS the episode. The episode is San and Luna's dads trying to understand their daughters better. And while they are well intentioned, they try to understand them by playing Dating Games.
And then emulating the girls in the Dating Games.
I really wish there were videos of this episode on youtube, since while the images get the point across, they don't convey the exact WTFness that occurs when Luna's dad and Seto Gouzaburo raise their voices a few octaves in attempts to be Moe. The crisis is averted, as is usually the case in Seto no Hanayome, but frankly, the episode as a whole is just amazing.
Ahh, you people have been such good sports. Here's an actual Moe image for you.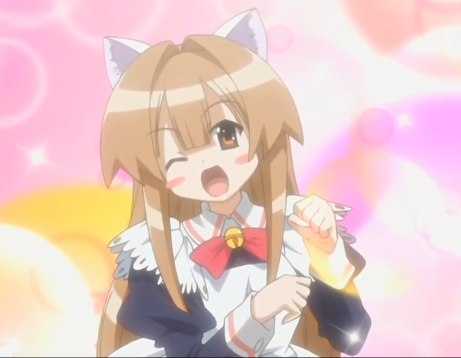 HAUUU~! OMOCHIKAERI~!
…
Moe. A dangerous technique not to be used by amateurs. Please think responsibly before using Moe.
---
28 Responses to " Whiskey Tango Foxtrot!? Wednesdays SE; Amazing Episodes of Anime Volume 5: Seto no Hanayome Episode 20; Moe can be a dangerous thing "
Comments:
Leave a Reply